Pet Stylists
Kendra Otto, Owner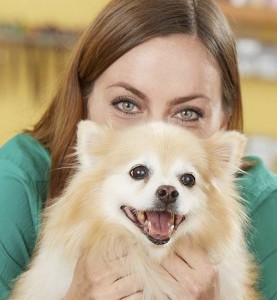 Kendra is a graduate from The Great Lakes Academy of Professional Pet Styling. She ranked in the top 10 in the country for 4 consecutive years on GroomTeam USA and ranked the Number 1 pet stylist in the state of IL for those 4 years. She has placed at every major grooming competition around the country and won multiple Best in Show/Best All Around Groomer awards; her other awards consist of: multiple Creative Styling awards, Artistic Innovation award, she was invited to participate in the Superzoo Jackpot Contest in Las Vegas where she placed 6th out of 20 in a class of 50. She was the recipient of the prestigious Liz Paul Scissoring Award, the Will Stone Memorial Award for kindness to animals.
Kendra was also the first recipient of the Groomie Spirit Award, a nominee for 2009 Cardinal Crystal American Groomer of the Year; the 2011 and 2012 Cardinal Crystal Congeniality Award and 2013 Barkleigh Honors Award for Up and Coming Judge of the Year. She has placed in multiple Rescue Rodeos in Las Vegas and Atlanta. She also enjoys styling rare breeds and was the first competitor to bring the Hungarian Pumi in the grooming contest ring.
She enjoys working with fearful dogs on the grooming table and enjoys building their trust and seeing the transformation of their behavior. This part of her job she finds more rewarding than any award she's ever received.
Kendra is an International Pet Styling Consultant for the Andis Company teaching seminars, blogging tips for pet stylists and assists in the development of grooming products. She is a published author in Grooming Industry Magazines,  teaches seminars and judges grooming competitions worldwide, is published via video through the learn2groomdogs.com website and Andis home grooming tools YouTube videos. She holds certifications through the following organizations: International Judges Association; United Show Managers Alliance; PetTech CPR and First Aid; National Dog Groomers Association of America; International Professional Groomers Association, is an American Kennel Club Safety Certified Groomer and a Certified Canine Esthetician. She served as the secretary and a board member for GroomTeam USA from 2011 to 2014. Kendra has appeared several times as a guest on the radio show called "Ask the Pet Vet" for WTMJ in Milwaukee, WI. and is also a host for Barkleigh Productions' Groomertv.com, a live Ustream of grooming competitions throughout the USA.
Kendra shares her grooming specialized techniques such as hand scissoring, hand stripping, rustic coat maintenance, extreme makeovers, creative trims and deshedding short haired shedding breeds with her staff. Kendra is owned by a Cat named Metallicat.
If you would like to contact Kendra, feel free to email her at kendra.otto@theupscaletail.com or call us at 630-632-8245 (TAIL).
---
---
Eliza – Pet Stylist
Eliza joined the UpScale Tail in 2014.
From a very young age she always knew she wanted to work with animals. She had planned on becoming a professional dog trainer, but by chance she took a job as a bather and soon knew she found her true calling in the world of grooming.
Eliza's philosophy when it comes to grooming is 'Practical over Pretty.' She aims to give clients a stylish, but easy maintenance, haircut based on the needs and lifestyle of the pet. She strives to educate Pet Parents in proper brushing technique & the importance of routine grooming.
However, that's not to say she doesn't enjoy grooming the funky and fabulous! She loves being able to use her background in the creative-arts to bring color, bling, and the latest high-fashion styles to her clients 'do's!
Eliza enjoys working with the big and the small, the seniors and the young, and pets who have physical limitations. She uses her kind and patient nature to make every pet feel calm and relaxed during their stay. She aims to teach pets that grooming doesn't have to be a bad thing – in fact, it can be quite fun!
She finds the most rewarding part of grooming is working with scared, anxious pets who have not been taught what grooming is about or have had bad experiences in the past with grooming. She believes in the healing power of patience and positive energy, and by creating a safe, relaxed environment and seeing the complete turnaround that happens in such pets is what keeps her going!
Eliza is an award winning competitive pet stylist; a Certified Canine Esthetician, PetTech CPR and First Aid certified, and aspires to become certified  though The National Dog Groomers Association of America and The Creative Groomers Association. When not at The Upscale Tail you can find her immersed in a variety of art projects, volunteering her time at a local animal shelter and grooming pups in need of a home.
Eliza specializes in several grooming techniques such as hand scissoring, hand stripping, rustic coat maintenance, sporting and terrier patterns, working with puppies, creative grooming and coloring. Eliza is owned by a Chihuahua named Lucy.
If you would like to contact Eliza, feel free to call her at 630-632-8245 (TAIL).
---
Rachel – Pet Stylist
Rachel grew up watching dog shows on TV, pestering her parents to buy her every dog book and magazine she set eyes on, and parading her shelter dogs around the house like show dogs. At age 14 she began showing her Pembroke Welsh Corgi in Junior Showmanship and Conformation shows through the AKC. She dreamed of being a professional handler, but a chance job at a kennel grooming salon awoke her passion for grooming.
Rachel adores her doggie clients and their pet parents alike. Her belief is that good grooming begins at home and is devoted to client education. She loves to rehabilitate dogs and take on the tough cases the other grooming shops turn away. Her philosophy is that every dog is "Best in Show" to their owner and she strives to make sure that every groom makes them feel healthy and refreshed. Her belief is in comfort before vanity and while she loves making each pet look their best the most important aspect of grooming is making each pet feel their best and healthiest.
Rachel's favorite grooms are senior pets. Seniors have often been getting groomed for years but the challenges and limitations of aging can cause them to become anxious about the process.
Rachel attends continuing education seminars, grooming shows, and conformation shows regularly to continue developing an eye for well-balanced grooms and staying up to date on the continually changing pet industry. She loves to befriend other groomers, sharing ideas, and is a firm believer in kinship with colleagues. She is a student of dog breeds, striving to learn all that she can about breeds from the most common to those that have gone extinct. Outside of work Rachel is a student of University of Massachusetts at Amherst via their distance learning program and is working on a bachelor's degree in public health. Rachel is owned by a Boston Terrier named S'mores.
Rachel is PetTech CPR and First Aid certified and specializes in several grooming techniques including hand scissoring, Doodles, terrier patterns, senior pet grooming, hand stripping and deshedding double coated breeds.
If you would like to contact Rachel, feel free to call her at 630-632-8245 (TAIL).
---
Aimee -Pet Stylist
Aimee joined The Upscale Tail in 2016. She started her career in the animal industry as a bather while completing her bachelor's degree in English. It didn't take long before she discovered that her true passion was dog grooming. Upon completion of both education routes, Aimee chose to continue her career as a pet stylist and has been happily doing so since 2007.
Aimee continues to be voracious in her appetite for knowledge of all things grooming. She regularly attends seminars and lectures in order to stay current on the latest trends and techniques. She also enjoys reading grooming books, AKC standards, and watching online classes while relaxing in the comfort of her own home.
Aimee enjoys finding balance between developing stylish trims for pets, while keeping in mind the lifestyle and needs of the pet and family. She loves styling pets in their traditional trims and recently has been venturing into experimenting with some Asian fusion styles.
Aimee specializes in several grooming techniques such as hand scissoring, hand stripping, curly coated breeds, and working with nervous pets. Aimee competes in grooming competitions, is an American Kennel Club Safety Certified Groomer and PetTech CPR and First Aid certified. She is owned by a Standard Poodle named Basil and 2 cats named Toki Wartooth and Bebop Cola.
If you would like to contact Aimee, feel free to call her at 630-632-8245 (TAIL).
---
Kaya -Pet Stylist
 
Kaya is a second-generation pet stylist and as a child she loved helping her mom bathe and groom dogs. Even her 1st job was at a grooming salon and she went on to graduate high school early so she could attend grooming school earlier in addition to studying organizational psychology for humans.
She has always felt a special connection with animals and has a big passion for rescue animals because she feels that they are some of the most loving and appreciative souls. She adopted her best friend at 8 years young and her dream is to have an animal haven where she can take in rescues animals of all kinds.
Kaya is owned by her rescue dog Max, a Lhasa Apso mix and they love to go camping, hiking or just cuddle and watch TV together. Regardless, her favorite part of the day is coming home to him. In her free time she loves to tie dye, go camping, listen to music, volunteer at pads-a homeless shelter, and make new friends.
Kaya aspires to compete in grooming competitions. She is is PetTech CPR and First Aid certified. She also loves to continue her education via online videos, attending seminars and reading.
If you would like to contact Kaya, feel free to call her at 630-632-8245 (TAIL).
---
Christine -Pet Stylist

Christine started her career as a bather in 2005 to help pay for college. She ended up loving the industry so much, she wanted to learn more. So she decided to attend The Academy of Dog Grooming Arts and has been hooked ever since. She believes in continuing her education and since graduation, she's taken online classes from Nash Academy, attended many hands on workshops and trade show seminars through out the country.
Since 2015, Christine has been competing at grooming shows both locally, around the United States and aspires to be on GroomTeam USA one day. She has won many awards in the regular classes and in Rescue Rodeo where the rescue dogs are available for adoption after the competition. She is certified in Pet 1st Aid and CPR certification through Pet Emergency Education and is working on her certification though the Professional Cat Groomers Association of America.
Christine is owned by her Miniature Poodle named Ted; a Standard Poodle named Arya; a Toy Poodle named Bryan, an American Cocker Spaniel named Bubbles whom she shows in conformation,  a Bichon Frise named Cesar; a 14 year old diabetic Pomeranian named Static and a Sphynx Cat named Cleo.
Outside of grooming, she enjoys doing crafts, going to dog parks, traveling, and has a life goal to visit all 50 states.
If you would like to contact Christine, feel free to call her at 630-632-8245 (TAIL).
---
Lisa -Pet Stylist (photo coming soon)
After a few years of happily grooming her own dogs, Lisa decided to leave the corporate world of finance and pursue her true passion of pet grooming. She attended school at Doggone Right Grooming Academy in Chicago.
Lisa is certified in Pet 1st Aid and CPR through Pet Tech and enjoys attending seminars to keep current on the latest industry trends.
Outside of grooming, she enjoys sewing, knitting, traveling and most of all, family life with her husband, children and grandchildren. Lisa and her husband are currently owned by a Bichon Frise named Mia.
If you would like to contact Lisa, feel free to call her at 630-632-8245 (TAIL).
---
Diane -Pet Stylist
Diane is certified in Pet 1st Aid and CPR certification through Pet Emergency Education. Keep an eye out for her photo and bio coming soon!