Pet Stylists
Kendra Otto, Owner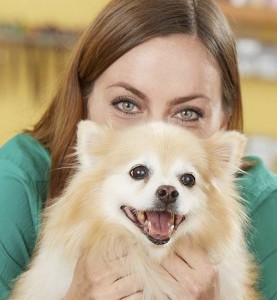 Kendra is a graduate from The Great Lakes Academy of Professional Pet Styling. She ranked in the top 10 in the country for 4 consecutive years on GroomTeam USA and ranked the Number 1 pet stylist in the state of IL for those 4 years. She has placed at every major grooming competition around the country and won multiple Best in Show/Best All Around Groomer awards; her other awards consist of: multiple Creative Styling awards, Artistic Innovation award, she was invited to participate in the Superzoo Jackpot Contest in Las Vegas where she placed 6th out of 20 in a class of 50. She was the recipient of the prestigious Liz Paul Scissoring Award, the Will Stone Memorial Award for kindness to animals.
Kendra was also the first recipient of the Groomie Spirit Award, a nominee for 2009 Cardinal Crystal American Groomer of the Year; the 2011 and 2012 Cardinal Crystal Congeniality Award and 2013 Barkleigh Honors Award for Up and Coming Judge of the Year. She has placed in multiple Rescue Rodeos in Las Vegas and Atlanta. She also enjoys styling rare breeds and was the first competitor to bring the Hungarian Pumi in the grooming contest ring.
She enjoys working with fearful dogs on the grooming table and enjoys building their trust and seeing the transformation of their behavior. This part of her job she finds more rewarding than any award she's ever received.
Kendra is an International Pet Styling Consultant for the Andis Company teaching seminars, blogging tips for pet stylists and assists in the development of grooming products. She is a published author in Grooming Industry Magazines,  teaches seminars and judges grooming competitions worldwide, is published via video through the learn2groomdogs.com website and Andis home grooming tools YouTube videos. She holds certifications through the following organizations: International Judges Association; United Show Managers Alliance; PetTech CPR and First Aid; National Dog Groomers Association of America; International Professional Groomers Association, is an American Kennel Club Safety Certified Groomer and a Certified Canine Esthetician. She served as the secretary and a board member for GroomTeam USA from 2011 to 2014. Kendra has appeared several times as a guest on the radio show called "Ask the Pet Vet" for WTMJ in Milwaukee, WI. and is also a host for Barkleigh Productions' Groomertv.com, a live Ustream of grooming competitions throughout the USA.
Kendra shares her grooming specialized techniques such as hand scissoring, hand stripping, rustic coat maintenance, extreme makeovers, creative trims and deshedding short haired shedding breeds with her staff. Kendra is owned by a Cat named Metallicat.
If you would like to contact Kendra, feel free to email her at kendra.otto@theupscaletail.com or call us at 630-632-8245 (TAIL).
---
Christine -Pet Stylist & Salon Manager

Christine started her career as a bather in 2005 to help pay for college. She ended up loving the industry so much, she wanted to learn more. So she decided to attend The Academy of Dog Grooming Arts and has been hooked ever since. She believes in continuing her education and since graduation, she's taken online classes from Nash Academy, attended many hands on workshops and trade show seminars through out the country.
Since 2015, Christine has been competing at grooming shows both locally, around the United States and aspires to be on GroomTeam USA one day. She has won many awards in the regular classes and in Rescue Rodeo where the rescue dogs are available for adoption after the competition. She is certified in Pet 1st Aid and CPR certification through Pet Emergency Education and is working on her certification though the Professional Cat Groomers Association of America.
Christine is owned by her Miniature Poodle named Ted; a Standard Poodle named Arya; a Toy Poodle named Bryan, an American Cocker Spaniel named Bubbles whom she shows in conformation,  a Bichon Frise named Cesar; a 14 year old diabetic Pomeranian named Static and a Sphynx Cat named Cleo.
Outside of grooming, she enjoys doing crafts, going to dog parks, traveling, and has a life goal to visit all 50 states.
If you would like to contact Christine, feel free to call her at 630-632-8245 (TAIL).
Kaya -Pet Stylist
 
Kaya is a second-generation pet stylist, as a child she loved helping her mom bathe and groom dogs. Even her 1st job was at a grooming salon and she went on to graduate high school early so she could attend grooming school as soon as possible at The Arlington Heights Academy of Dog Grooming.
She has always felt a special connection with animals and has a big passion for rescue animals because she feels that they are some of the most loving and appreciative souls. She adopted her 1st best friend at 8 years young and her dream is to have an animal haven where she can take in rescues animals of all kinds.
Kaya is owned a Bearded Dragon named Baby and Chunk, her Miniature Poodle whom she competes with in grooming competitions.
In her free time, she loves to go camping, hiking or just cuddle and watch TV together. She is also passionate about volunteering at PADS homeless shelters.
Kaya is is PetTech CPR and First Aid certified and is a Certified Canine Esthetician. She also loves to continue her animal education via online videos, attending seminars and reading. Additionally, she is in college, beginning her studies in the medical profession.
If you would like to contact Kaya, feel free to call her at 630-632-8245 (TAIL).
---
Casey-Pet Stylist
 Casey is a graduate of The Great Lakes Academy of Professional Pet Styling. She discovered her love and interest for animals when she was 10 years old and ever since, she was determined to pursue a career in the animal field.  She loves to volunteer at animal shelters; transport rescue dogs to their foster homes; is a big bully breed fan and advocate for the ban of breed specific laws.
 Casey is owned by Gantu, an American Pitbull Terrier and Pip a Beagle-Staffordshire Terrier Mix. In her free time, she likes to take them on long hikes and discover new trails around the area; enjoys practicing yoga; travel and snow skiing.
Casey is certified is Pet 1st Aid & CPR certified through Pet Emergency Education, enjoys studying animal behaviors and is passionate about continuing her education to become certified in more areas.
If you would like to contact Casey, feel free to call her at 630-632-8245 (TAIL).
---
Emily-Pet Stylist (coming soon)
---
Joel-Pet Stylist
Joel is owned by Connor, his Australian Shepherd Mix and Gamov, his hamster. He has a passion for helping pets feel better whether it is using calming techniques to relax them or simply giving them a good bath and blow-dry.
Joel has his Pet 1st Aid and CPR certification through Pet Emergency Education and is also a graduate from Carthage College, where he majored in philosophy with a minor creative writing.
Joel enjoys warm summer days, specifically long rides in the country on his motorcycle and listening to upbeat music.
---